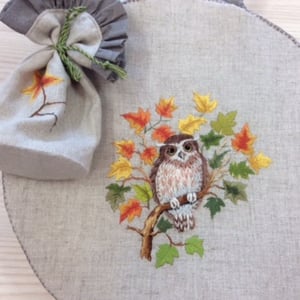 $

200.00
As featured in 'Inspirations - a passion for needlework'
Jenny has designed an embroidery hoop bag with an Autumn theme. A splendid brown owl resting amidst the branches of a tall tree, surrounded by autumn leaves in shades of rusty golds & greens, stitched with wool and cotton threads.
The four different patterns are pre-printed on the linen including the owl for the front panel, the tree for the back panel, autumn leaves for the gusset and a tree branch for the accessory bag.
The finished hoop bag measures 44cm x 31.5cm wide.
The full kit includes the pre-printed linen, lining fabric, threads, accessories and instructions to make one hoop bag.
The pre-printed linen is also available as a separate item